DiEM Voice will be in Berlin next weekend to support the launch of the German MERA25.  The event will take place on November 13th at 7 PM at Kino International in Berlin (Karl-Marx-Allee 33, 10178 Berlin, tickets here), with Yanis Varoufakis, Julijana Zita and many more,  followed by a DiEM25's Community Day on Sunday.
On Saturday from 6PM at Kino International, you will have the opportunity to visit the exhibition  We are Millions by the  Courage Foundation, and to participate by taking a photo as a protest for the release of Julian Assange. We are Millions is one of the artworks featured in our campaign Raise your Voice for Assange.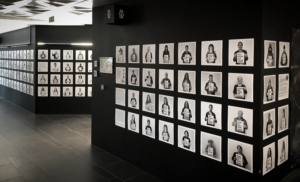 The event will start then at 7pm at the main hall of the KINO International with an artistic video by Danae Stratou, coming from the project Black Boxes.
DiEM Voice will also be giving a workshop at DiEM25's Community Day on Sunday, November 14th at 2.45pm at the Jugendherberge Berlin OstKreuz (Marktstraße 9-12, 10317 Berlin).  We will discuss together how art and politics can join forces to help spread the word of DiEM25. Please register here if you want to join!